Date: 1st June 2022
Author: BETTER FINANCE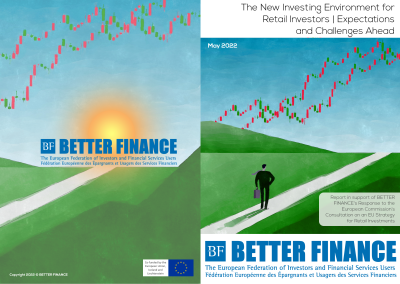 BETTER FINANCE published a report in support of its response to the EC Consultation on the EU Strategy for Retail Investors, illustrating the current state of affairs, detailing how to attract and retain the participation of EU households in capital markets, and issuing policy recommendations.
The EU needs a Capital Markets Union "That Works for People" and brings significant benefits for individual, non-professional investors. This is now pivotal, as the recovery from the economic downturn triggered by the global health pandemic will rely on the stable, long-term financing of EU households.
The last two years' activity restrictions brought about two significant developments. First, EU households put aside far more of their net disposable income in 2020 and 2021. Second, previously inactive EU savers started investing in the real economy and trading in financial instruments. This means that a new, fresh wave of individual, non-professional investors entered capital markets, investing directly (brokerage accounts) or indirectly (investment products).
BETTER FINANCE analysed the increased investing activity at the local level in twelve jurisdictions with the help of data from local securities exchanges, financial supervisors, shareholder associations, or official statistical offices: Austria, Belgium, Denmark, Finland, France, Germany, Italy, the Netherlands, Portugal, Romania, Spain, and Sweden.