Date: 25th March 2021
Author: BETTER FINANCE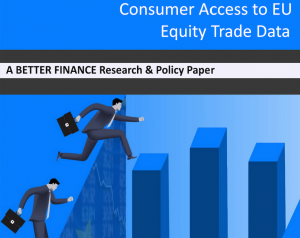 Access to equity market data is essential for "retail" investors to make informed investment decisions. However, new research by BETTER FINANCE [1] found that online equity market data published by the four largest EU equity markets (in 2019, according to ESMA) are de facto not or just partially [2] accessible to non-professional usersde facto not accessible for non-professional users.
Equity trading venues (Regulated Markets and Multilateral Trading Facilities) operating in the European Union are required to publish pre- and post-trade data that is accessible and understandable for end-users.
This data must be provided free of charge and has to be directly available in an easily accessible and non-discriminatory manner, in a format that can easily be read, used, copied and understood by the average reader, and respecting a maximum delay of 15 minutes. Any practices diverging from - or circumventing these basic rules would be in breach of EU law.
The European Securities and Markets Authority (ESMA) also noted that many equity markets fail to fully comply with the law, especially with regards to the timeliness (a maximum delay of 15 minutes) and format of the trade data provided..
---
[1] BETTER FINANCE 2021 Report on "Consumer Access to EU Equity Trade Data"
[2] See table below: only partially for the LSE since only pre-trade data was found to be de facto not accessible for "retail" investors.