Date: 13th October 2021
Author: BETTER FINANCE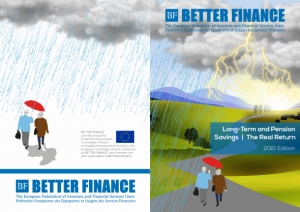 BETTER FINANCE published the ninth edition of its "Real Return of Long-Term and Pension Savings report | 2021 Edition".
Download the report in English for free here. Should you like to order a physical copy please contacts us at info@betterfinance.eu.
This year there is also a user-friendly online interface showing the nominal and real net performances of all pension products covered by the report.
Press Release: "How to Get Value for Your Money when Charges and Inflation seriously Erode Pension Savings Across Europe?"