Date: 29th November 2019
Author: BETTER FINANCE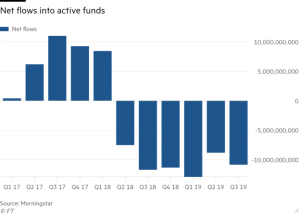 Investors have pulled an average of £3.5bn a month from active funds since Mifid II rules highlighted the extra cost of active management to fee-pressured advisers.
[...]
The Mifid rules introduced at the beginning of 2018 made it mandatory for advisers to break down costs for their clients periodically in the interest of greater transparency and value for money.
This means the difference in cost between active and passive funds was more noticeable at a time when pressure on adviser fees and client costs has been increasing.
[...]
Read the full article here.