Date: 20th November 2019
Author: BETTER FINANCE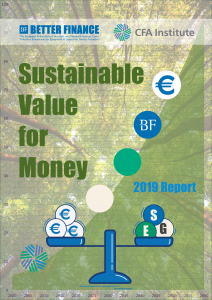 Brussels, 20 November 2019 - BETTER FINANCE Publishes its survey on "green" investment products in cooperation with Financial Analysts
Besides addressing crucial environmental and social issues, the concept of sustainable finance should translate into investment products that are exemplary in complying with EU investor protection, governance and conduct of business rules. An investment can be as 'green' or 'sustainable' as you like, individual investors as long-term and pension savers will not entrust their lifetime savings to such products if they do not address their primary need for sustainable long-term value creation.
Sustainable finance must fully incorporate the most basic of requirements such as fair, transparent, clear and non-misleading investor information. The trust of EU citizens as savers and investors is at stake.
With this in mind, BETTER FINANCE and the CFA Institute embarked on a project to analyse what professional financial analysts and consumer stakeholders understand by Sustainable Value for Money. Based on extensive feedback from these stakeholders, the study found that professional analysts and individual investors are largely aligned in their understanding of what is needed to achieve Sustainable Value for Money.