Date: 24th March 2021
Author: BETTER FINANCE
BETTER FINANCE is determined to defend all shareholders' rights across the EU. For this, we conduct a survey on Shareholders' engagement that are located in the EU. We specifically inquire about their cross-border voting rights in the European Union.
The responses are based on the principle of "Mystery Shopping" (anyone can participate) to identify the variety of obstacles one shareholder may face in attending Annual General Meetings/Shareholders' meetings (AGMs) of shares of companies held, via their broker or depositary bank.
If you own shares of another EU company than your home state (or than your custodian bank/broker location), we invite you to answer our questions, whether you did try – or couldn't – participate to the Shareholders' Meeting(s) (AGMs).
All investors in shares across Europe can document their experience here.
Background
The Shareholder Rights Directive II (SRD II) came into force in September 2020, and was supposed to grant more rights to shareholders across Europe.
From now on, all shareholders must be notified (by their depository bank or broker) of the date of the Annual General Meeting of the company in which they hold shares, regardless of where else in the EU the company is located. The exercise of shareholders' rights, such as attending annual shareholders' meetings in another EU Member State, should then be facilitated (and receiving information should be automatic). This is the real improvements to the exercise of shareholder rights that SRD II shall have brought.
Unfortunately, it seems that most shareholders are either not properly informed of AGMs abroad, or encounter several obstacles when trying to exercise their rights at general meetings across the EU (such as lack of information, high costs required by intermediaries, unavailability of the voting service, deadlines, etc.).
---
If you are an individual shareholder and own shares of a company located in any other EU Member State than yours, you can participate: document your experience here.
We aim at gathering as much information as possible on the experience of individual shareholders across the EU.
This will help BETTER FINANCE to influence EU policy and improve the SRD II accordingly, and therefore the rights of European shareholders!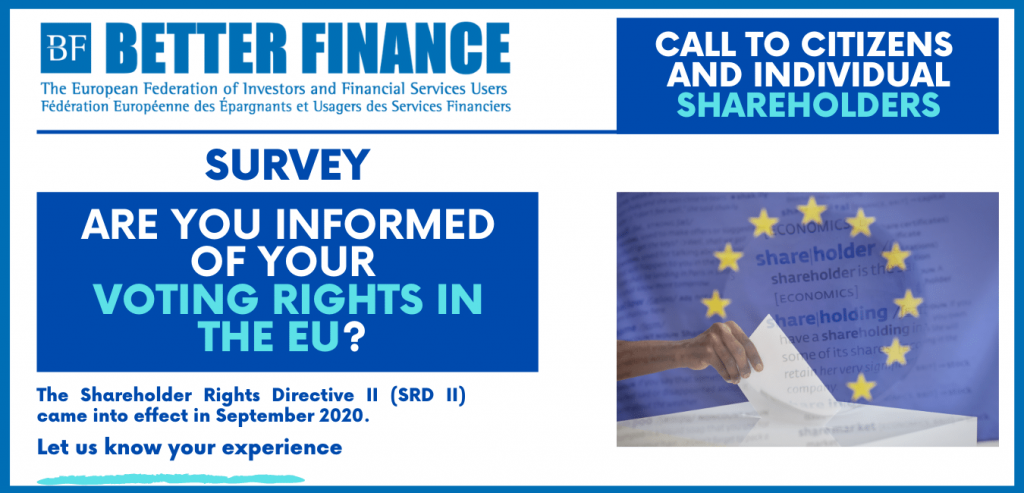 Click above and complete this questionnaire separately for each company (issuer) you own and are/would be entitled to attend the Shareholders' meeting (AGM).
We are interested in any EU cross-border exercise you are going through and encourage you to use the shares you already have in your (personal) portfolio and wish to provide feedback on.
If you have questions, feel free to contact BETTER FINANCE Policy Officer Edoardo Carlucci at carlucci@betterfinance.eu