Date: 5th October 2016
Author: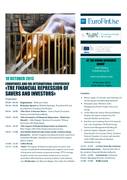 EuroFinUse and IVA invite you to the debate with high-level speakers on the«Financial Repression of Savers and Investors». Edin Mujagic, David Croughan, Olivier Gajda, Benjamin Josar, Carlos Maravall, Joachim von Cornberg, Gabriele Zgubic-Engleder and Helmut Ettl will give us their perspective in Vienna on October 18.
Join us at the Vienna Insurance Group from 9am to 14pm!
Get to know all the speakers here.
Please find the complete programme here.